We have a wonderful lineup of artists visiting this summer!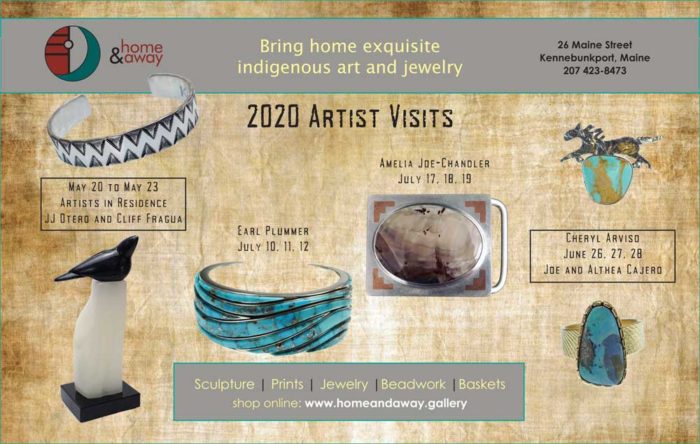 May 20 to 23: The season starts off with Cliff Fragua and JJ Otero visiting
Cliff Fragua will be showing his stone sculptures; he is an award-winning artist who uses marble and other stones from various parts of the world to make designs in a variety of themes, from bears, to human figures, to abstract shapes. Fragua is known for his stone lamination, which results in beautiful combinations of color and pattern in one striking, cohesive design.
JJ Otero, of the Navajo and Hopi tribes, will not only be showing his jewelry, but he will be our artist-in-residence, working and demonstrating his work at the gallery. When he visited in 2019, he had been making jewelry for a short period of time and he created primarily sterling silver jewelry with traditional style stamping. In 2020, JJ is incorporating stones into his jewelry adding a new dimension that elevates the work to a new level.
JJ will also be performing music at the Brick Store Museum on Main St. in Kennebunk, an event that will be accompanied by a showing of a video that was made about him. Date to be determined. Stay tuned…
On June 26, 27, and 28, we have a trio of artists coming: Joe and Althea Cajero and Cheryl Arviso.
Joe Cajero is a sculptor and a jewelry designer, originally from Jemez Pueblo. Joe's work has a spiritual nature to it, invoking traditions and evoking emotions based on the chosen theme.
Althea Cajero is of Santo Domingo and Acoma descent. She specializes in cuttlefish casting, a method that uses the bone of a squid-like mollusk to create molds with wonderful, wavy texture. Althea combines her silver castings with carefully selected stones, pearls, and coral to great effect.
Cheryl Arviso is a Navajo silver artist whose work is relatively new to Home & Away Gallery. Cheryl hand carves traditional Navajo sterling silver leaf designs organically placed around stones; she also creates work with contemporary flair, including a Korean gilding technique named Keum boo as well as cuttlefish bone casting. We are excited to bring you this talented artist as our relationship with her develops.
Last, but not least, is the annual visit of Earl Plummer to Home & Away Gallery, taking place on July 10, 11 and 12. Earl has been here almost every summer for approximately fifteen years. During those years, we have watched his creativity and skills progress to those of a world class artist. We always look forward to seeing Earl and introducing a member of his family to the East Coast.
The week after Earl Plummer's visit, Navajo artist Amelia Joe-Chandler will show her work on July 17, 18, and 19. Joe-Chandler has a very distinctive style of metal work, often using patterns in stones to tell a story, which often incorporates geographical features of her homeland or traditional symbols of her culture.
Additionally, Joe-Chandler uses sandstone inlay of various colors to convey part of the story. Her finishing touch is the unpolished, matte finish of the metals she uses. The soft brushed surface lends an air of patina to her contemporary work.
We hope you can join us for one or more of these events. If you think you will, please call 207 423-8473 to let us know when you may come. If you can't be here, let us know if you would like to speak with any of the artists while they're here to create a custom piece for you.