Native American necklaces come in many different varieties, each construed using various materials found in nature. Beyond that, as with all Native American jewelry, no strict set of rules exists to officially determine what constitutes a Native American necklace. However, there are certain types of Native American necklaces that continue to remain stylish hundreds – and even thousands – of years later.
The 6 most popular types of Native American necklaces for men and women are:
Coral necklace – Native American coral necklaces can be blue, orange, black, white, pink and red. The most revered type of coral necklace is made from Blood Coral, which signifies wealth and status. Native Americans did not have access to this coral until European trade began.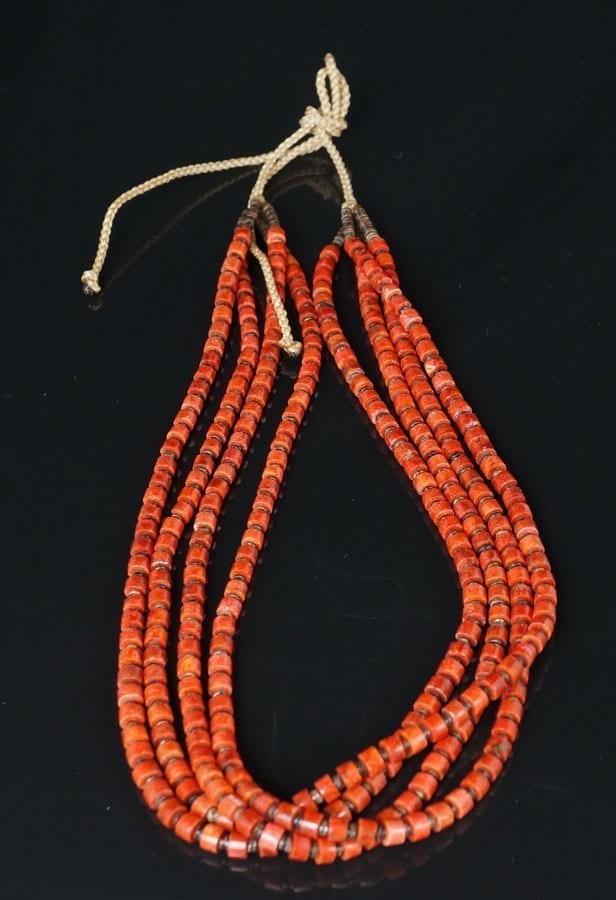 Sponge coral necklace by Tony Abeyta
Fetish necklace – Native American animal carvings are thought to imbue the wearer with special and sacred powers belonging to said animal. Used for guidance and protection.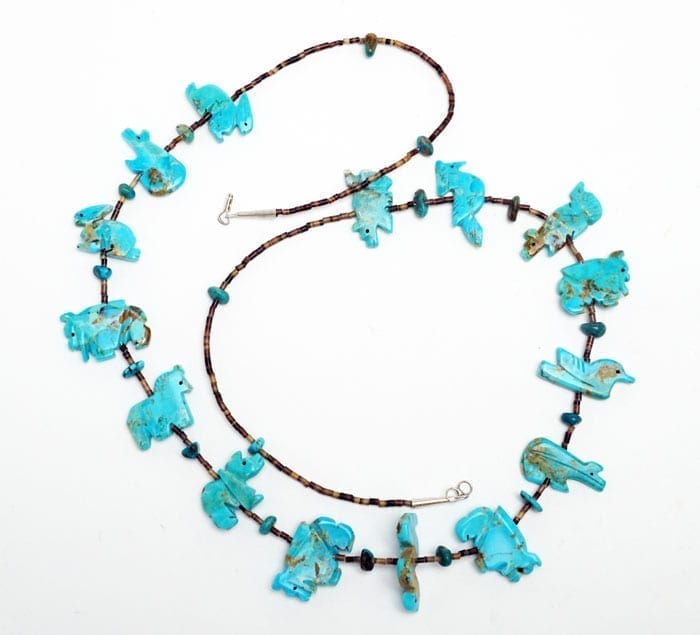 Thunderbird necklace – The Thunderbird is a reccurring god in Native American folklore who sometimes took the form of a bird to help tribes. Thunderbird necklaces often use the color red to depict the god's power and speed.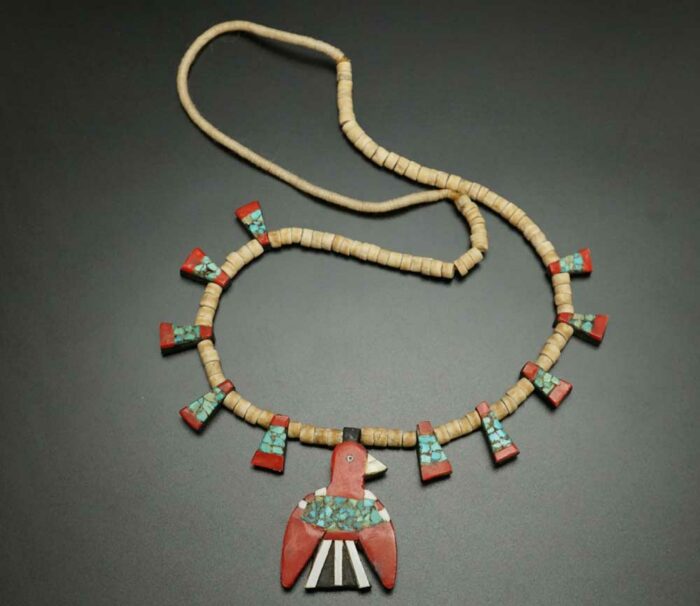 Bear necklace – A second popular fetish necklace is the bear necklace. Some Native Americans tribes believe the Black, Grizzly and Polar Bears in particular helped maintain order and imbued the wearer with courage, protection, speed, power and agility.


Beaded necklace – Earlier Native American beaded necklaces were made of wood, claws, teeth, shell, stone and copper. These materials would be replaced by glass beads brought on by European trade. Most modern Native American beaded necklaces now use beads from Japan.
Heishi necklace – Heishi originally was a popular style of clam shell necklace with distinctive disc-shaped beads, often incorporating coral and precious stones. Heishi literally means "shell", though its definition has since been expanded to include any small bead of natural material made by hand.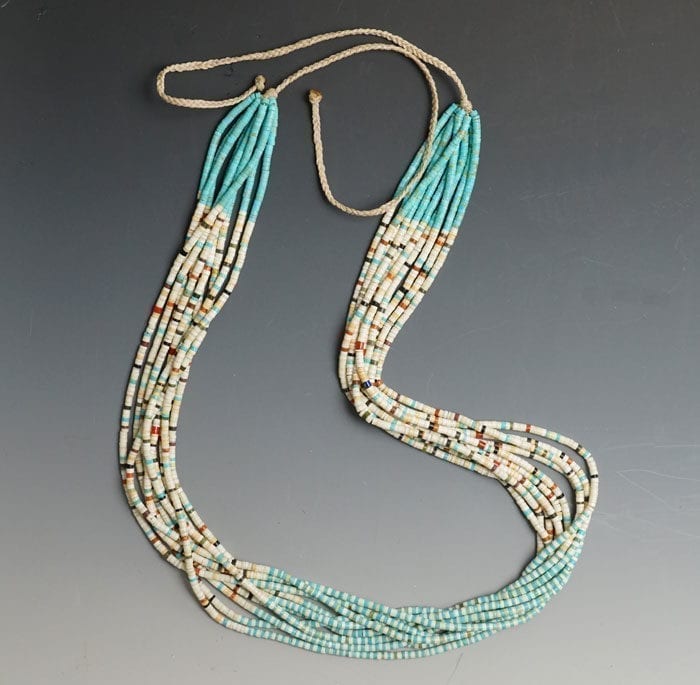 Squash blossom necklace – Beginning with the Navajo in the 1800s and later adopted by the Zuni and Hopi tribes, the squash blossom necklace traditionally uses silver beads leading down to a protective turquoise Naja pendant meant to ward off evil spirits.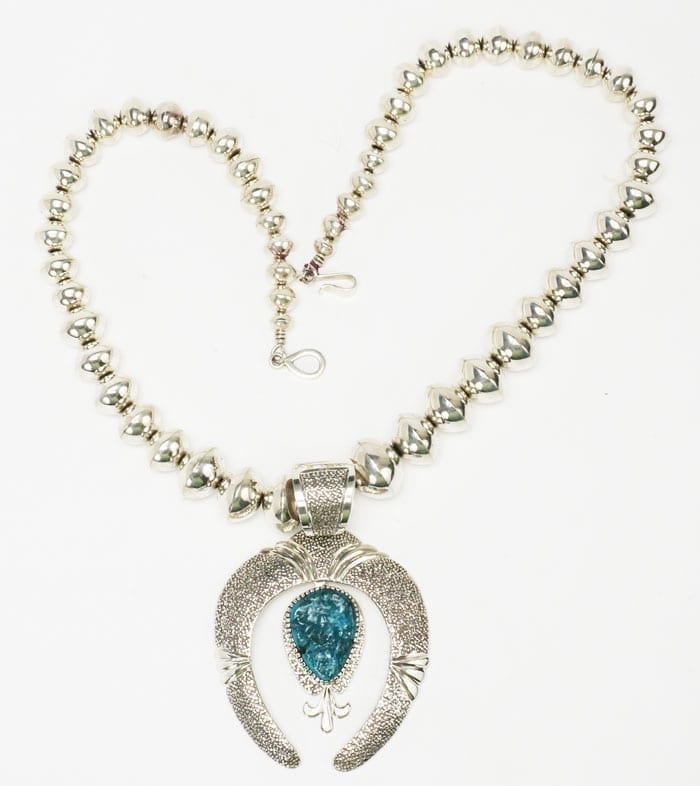 Why Native Americans Wore Necklaces
Native American necklaces have a cultural depth that goes far beyond decoration or trade. Some necklaces were traditionally worn as a display of wealth and tribal status (coral necklaces), others for guidance and protection rituals (fetish necklaces), and others still for utility (beaded pouch necklaces).
Authentic Native American Necklaces at the Home & Away Gallery
Home and Away gallery has a carefully chosen selection of contemporary and vintage Native American necklaces from an array of Southwestern tribes as well as Maine, Alaska, and more. Take a tour of our Native American necklaces online or in-person at Kennebunkport, Maine.
Call (207) 967-2122. We love to talk about all of our Native American necklaces on display and for sale.