Jeremy Frey cage basket
Jeremy Frey cage basket
This innovative design is everything you would expect from Frey. The inner woven ash basket is surrounded by a cage of thicker pointed ash. Beautifully weave on the finial.
Size: 6 1/2 in. diameter at its widest tapers to 4 in. at the base; 12 1/2 in. high, including finial.
Materials: brown ash, sweetgrass, dyes.
Jeremy Frey  cage basket
Jeremy Frey, Passamaquoddy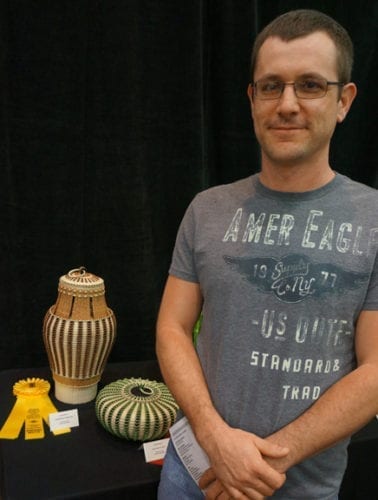 Jeremy Frey, Passamaquoddy, comes from a long line of basket weavers in Maine. Frey won Best of Show awards at the Santa Fe Indian Market in 2011 as well as at the Heard Museum Indian Fair and Market in 2011 and 2015. His baskets were shown in "Changing Hands 3: Art Without Reservation" at the Museum of Arts & Design in New York in 2012. His baskets are held in many private as well as public collections, including the National Museum of the American Indian. His work is recognized for innovative design combined with flawless workmanship.
Frey carefully selects, harvests, and splits brown ash trees and sweetgrass for his work. He strives for new creative designs and forms in order to keep evolving as an artist and to elevate the art of basketry to new heights. This young man will continue to innovate for many years to come.
As someone who overcame difficulties in his youth, Frey serves as a role model among basket makers as well as in his community. Watch a TedX talk given by Jeremy in 2014 here.
Jeremy began weaving at a workshop sponsored by the Maine Indian Basketmakers Association. He has also learned from his mother. While he creates many new designs, he also weaves traditional Wabanaki fancy baskets that have been made for generations.
| | |
| --- | --- |
| Weight | 75 lbs |
| Dimensions | 20 × 20 × 20 in |