Ivory-bracelet
This bracelet is from the collection of Charles Goodyear Hubbard (1869 – 1969), an adventurer and explorer who spent a fair amount of time in Alaska.
The fossil walrus tusk has an outstanding patina that cannot be replicated.
Inside circumference is approximately 7″; 11/16″ wide
Out of stock
Additional information
| | |
| --- | --- |
| Weight | 3.000 lbs |
| Dimensions | 0.00 × 0.00 × 0.00 in |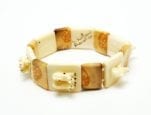 Jewelry, Carvings
Lincoln Milligrock Ivory Sled Dog Team Bracelet
Lincoln Milligrock, Inupiaq artist from Little Diomede Island (1931 - 2010) was one of the last makers of carved animal bracelets. Most other bracelets of his we have encountered have featured sea mammals. This one features an entire sled dog team, including the sled and driver, four pairs of dogs pulling together, and the single lead dog. Recently strung on new elastic, the bracelet has an inside circumference of about 6 1/4 inches. It is approximately 3/8 inch wide. The animals are carved from fresh ivory and adorned with small scrimshaw details. The darker pieces are cross sections of old ivory, which contrast nicely with the white fresh ivory. While the artist was carving into the 21st century, we believe this bracelet dates to the 3rd or 4th quarter of the 20th century. Because the signature differs from later work of his, we believe this is an early piece. We continue to do research on it. Please note that products containing ivory or other marine mammal components cannot be shipped to New York, New Jersey, or California. As of this writing, it is still legal to ship these products to all other states.
Click here to see a brochure
published by the U.S. Department of the Interior with more details on this topic. If you are interested in having this product shipped outside the United States, please call 207 967-2122 to discuss permit requirements.
$

475.00