Ivory and Baleen Halibut Necklace
This handsome halibut pendant is ivory (walrus tusk) with scrimshaw on one side and baleen on the other.
Size is approximate; each one is slightly different.
1 1/4″ x 5/8″ x 3/8″; blue beads, sterling silver beads, adjustable nylon cord
Out of stock
Additional information
| | |
| --- | --- |
| Weight | 0.5 lbs |
| Dimensions | 10 × 8 × 6 in |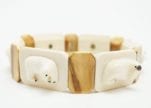 Jewelry, Carvings
Vintage Ivory Bracelet - Separately Carved Animals
This is an exceptional bracelet, with a feature that is unlike any that we have seen or sold: each animal was carved separately and attached to the base with a tiny screw. The animals (two walrus, two seals, and two sled dogs) are beautifully carved, with black and red ink scrimshaw. The coup de grace among them is a wonderful, stately walrus, laying on its back. The color variations in the old ivory contrast nicely with the new ivory plates and animals c. 3rd qtr. 20th century The bracelet is strung with elastic cord which appears to be recently replaced. It will fit wrists of up to approximately 7 inches in circumference. The bracelet is 5/8 inch wide. Please note that products containing ivory or other marine mammal components cannot be shipped to New York, New Jersey, or California. As of this writing, it is still legal to ship these products to all other states.
Click here to see a brochure
published by the U.S. Department of the Interior with more details on this topic. If you are interested in having this product shipped outside the United States, please call 207 967-2122 to discuss permit requirements.
$

575.00