Earl Plummer Sterling Silver Natural Turquoise Navajo Bracelet
$750.00
Earl Plummer Sterling Silver & Natural Turquoise Navajo Inlay Link Bracelet
Award-winning silversmith Earl Plummer gracefully blends the traditional Navajo jewelry making with the contemporary for an alluring sterling silver link bracelet inlaid with polished natural turquoise. Deep, dark, abstract turquoise matrixes are strikingly separated by sterling silver "channels" interspersed with small slashes of deep red coral.
Earl Plummer specifically seeks natural turquoise to give his handmade jewelry the best possible authenticity. Much of his jewelry is meant to represent various Native American southwest landscapes and settings.
At 7″ in length, it will comfortably fit a wide variety of wrist sizes. The bracelet is secured by a hand forged clasp as well as a chain. 1/4″ wide
Out of stock
Earl Plummer Sterling Silver Natural Turquoise Navajo Bracelet
Earl Plummer is an award-winning Navajo silversmith. He won Best of Classification in Jewelry at the Santa Fe Indian Market in 2013.
This sterling silver link bracelet is inlaid with deep red coral.
At 7″ in length, it will comfortably fit a wide variety of wrist sizes. The bracelet is secured by a hand forged clasp as well as a chain. 1/4″ wide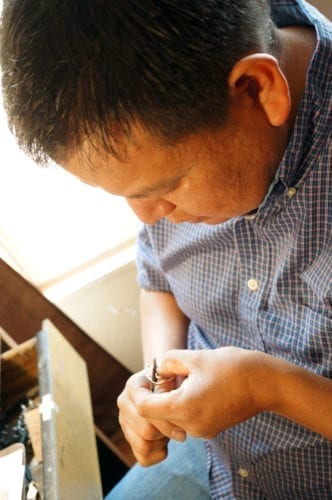 Earl Plummer (Navajo) was born in 1975. He creates fine inlay work with a beautiful sense of design. He combines natural stones and shells in ways that complement each other's colors and matrices to great effect.
Although Plummer learned basic silversmithing techniques from relatives, he taught himself much of what he now does. Working with him since 2004, we have watched this hard-working young man progress from very competent tradesman to master. He copies no one and follows his own path forward.
Much of his work has a clean but bright contemporary look. Silver designs were simple, relatively speaking; his greatest strength was the ability to combine materials, whether homogenously or heterogeneously, in very attractive color and shape combinations.
Since 2007, Plummer has challenged himself with more complex silver work as well. He has made a series of squash blossom necklaces, for example, that contain traditional elements that are combined with contemporary aesthetics. These squash blossom necklaces have been the ticket to awards at nationally known Native American art markets, including the Santa Fe Indian Market and the Heard museum Guild Indian Market and Fair.
Once Plummer sets out on a mission, he is sure to accomplish it. Fortunately, his missions often involve new concepts and designs. As a result, we have full confidence in this artist's ability to continue to grow and to flourish, and to be recognized by aficionados of Native American art as well as by his peers.
Earl Plummer lives and works in New Mexico with his wife and four children. He generously gives time to his elders, helping with ranch duties (including sheep-shearing) as well as any other help he can provide.
Among Plummer's awards:
2007: 2nd Place ribbon, Santa Fe Indian Market
2008: 2nd Place ribbon, Heard Museum Guild Indian Market and Fair
2013, Best of Classification, Jewelry, Santa Fe Indian Market
Publications
Masters of Contemporary Indian Jewelry, Schiffer, N., Schiffer Publications, Ltd., Atlgen, PA, 2009
| | |
| --- | --- |
| Weight | 1 lbs |
| Dimensions | 8 × 6 × 2 in |