Amazing Native American jewelry (necklaces, earrings, rings, bracelets, and more) is for sale at Home & Away Gallery in Kennebunkport, Maine. Here are four exquisite Native American jewelry selections that have been personally recommended by Home & Away Gallery owner, David Shultz!
Eight-Strand Lapis Lazuli Santo Domingo Heishi Necklace by Artist Priscilla Nieto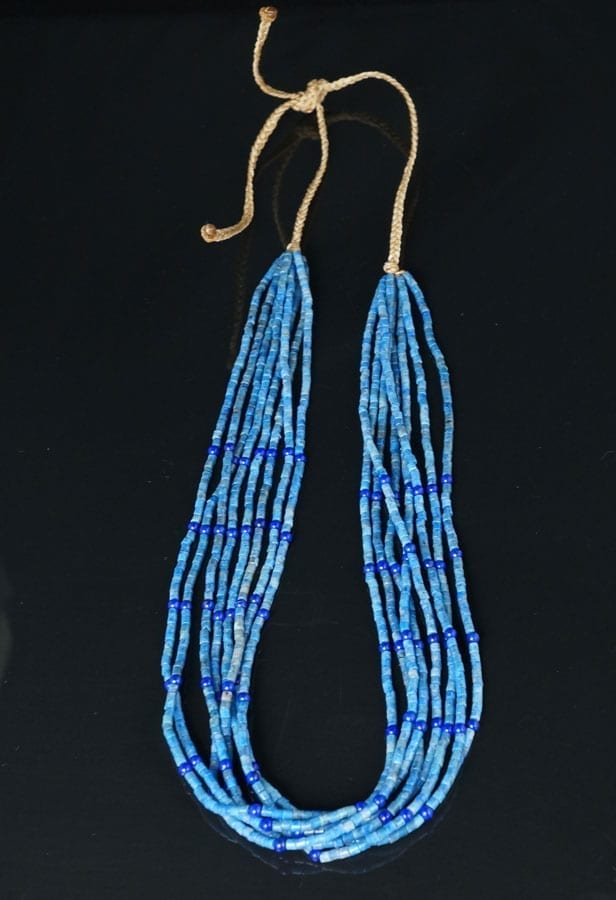 Heishi necklace by Priscilla Nieto.
A beautiful lapis lazuli beaded necklace made by Santo Domingo artist, Priscilla Nieto. The beaded section has a length of 16 inches and a special braided thread that can be adjusted to a custom length to better match different clothing items and accessories.
Born on the pueblo of Kewa (then Santo Domingo), Priscilla Nieto is a master of flawless heishi jewelry.
The lapis lazuli beads have been ground down and drilled by hand to create a beautiful example of the traditional Santo Domingo heishi necklace.
Native American Turquoise Lapis Lazuli Argentium Silver Wabanaki Vine Earrings Decontie & Brown
Decontie & Brown Native American Wabanaki earrings.
Created in honor of the Wabanaki peoples as part of the Vine Series, these Native American earrings contain turquoise, lapis lazuli, jet, and healarite with an Argenitum silver casing. The vine pattern is steeped in ancient Penobscot symbolism and meant to represent the splendid simplicity of nature.
Jason Brown and Donna Decontie Brown are two married Native American artists of Penobscot and Penobscot-Algonquin descent, respectively. Their contemporary designs celebrate a unification of the Maliseet, Micmac, Passamaquoddy, and Penobscot tribes into the Wabanaki ("People of the Dawn-land") Nations.
Native American Peruvian Opal 18K Gold Cuttlefish Bone Casting Ring Artist Althea Cajero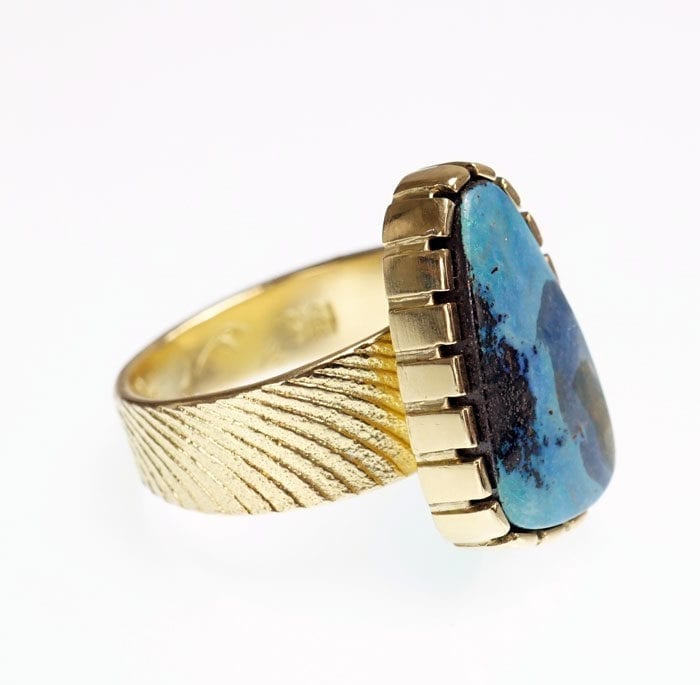 Cuttlefish bone casting ring by Althea Cajero.
Santo Domingo artist Althea Cajero creates an astonishing cuttlefish bone casting ring with 18K gold and Peruvian opal. Cuttlefish bone casting is an ancient jewelry-making technique adopted by contemporary Native American metalsmiths, in which the artist cuts the bone in half, carves a design into the mold, and then sands the two pieces so they can be reconnected to form a smooth mold. The mold is then filled with metal (in this case, gold), imprinting the intricate patterns of the bone onto the ring upon completion.
Althea Cajero, whose father is a tribal leader of the Kewa Pueblo, has perfected the technique.
Earl Plummer Morenci Turquoise Navajo Wave Bracelet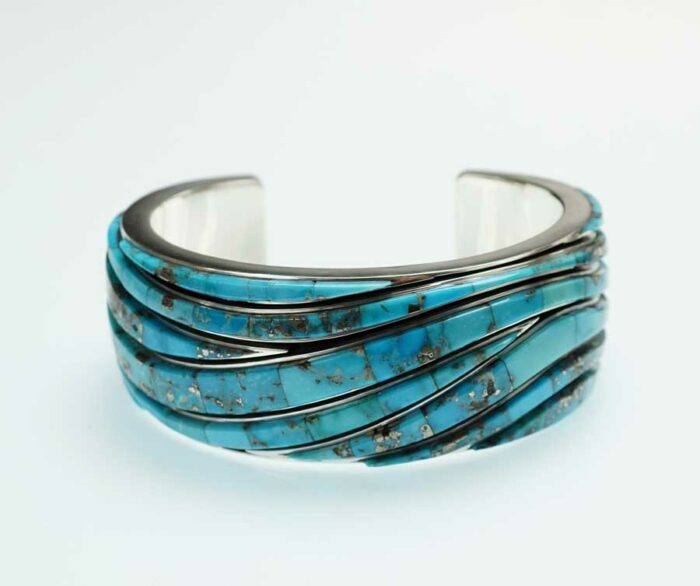 Morenci turquoise Navajo bracelet by Earl Plummer (Wave Series).
As part of the Wave Series, Navajo artist Earl Plummer creates a stunning bracelet using natural turquoise from the Morenci mine in Arizona. Morenci turquoise ranges from blue to green and has a heavy matrix and occasional spiderwebbing. As the largest copper mine in all of Arizona, the Morenci mine was first explored in the 1860s, and soon large turquoise deposits were found as well. Since no turquoise is currently being produced by the mine and only small amounts coming to market, this bracelet is a collector's dream – Earl Plummer's notoriety and skill makes it all the more exceptional.
Find More Jewelry at Home & Away Gallery
For Native American jewelry and artwork with a deeper meaning, visit Home & Away Gallery.