Cliff Fragua Rain God 1
$450.00
Cliff Fragua Rain God 1
This is one in a series of wall plaques made from laminated marble, created by famed Jemez Pueblo artist Cliff Fragua. In the dry southwest of their homeland, the Jemez people need rain to grow their crops. This figure represents a god who has the power to provide that rain when required.
Materials, head to toe: marble from Tennessee, Norway, Greece, India, Norway
Embellishements: turquoise and apple coral beads, apple coral heishi, macaw feathers.
Hanger is screwed into the stone and also glued to the slate backing, for added safety.
Plaque is 16 in. high x 3 in. wide
Out of stock
Cliff Fragua Rain God 1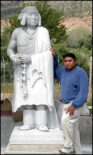 I have learned the secret of the stone through my cultural and ancestral teachings. Based in Native American themes, my work shows pride for the Pueblo culture and a deep understanding of the inherent spirituality of the stone. I have chosen stone as my medium of expression because it is a combination of the basic elements of the earth. I feel the honesty and purity of this most basic of material permits me to express myself from the heart and to express the spirit that Native people respect an revere as embodied in the stone.
Since 1974, when I created my first stone sculpture, I have created a significant body of work that keeps evolving with new influences and new interests. My sculptures are featured in such public locations as the National Statuary Hall in the Nation's CapitolAlbuquerque International Airport and in permanent collections throughout the country. I have been included in major invitational exhibitions and one-man shows in leading museums and galleries and have earned highest honors and awards for my sculptures. Read more about the artist here…
| | |
| --- | --- |
| Weight | 6 lbs |
| Dimensions | 20 × 8 × 6 in |