Chris Pruitt Sterling Silver Textured 3/8th Inch Bracelet (Laguna Pueblo)
$300.00
Chris Pruitt Textured 3/8 Inch Bracelet
Christopher Pruitt has won a number of awards in his rising career, including Best of Classification for jewelry at the Santa Fe Indian Market.
The surface of this sterling silver bracelet is cross-hatched, creating a beautiful texture.
At 1/8″ thick, this is a substantial bracelet. Because it has no stone, there is some leeway in bending it to fit.
The bracelet is 3/8″ wide. It will fit a 6 1/4 inch wrist and has a 1 1/8″ opening.
Out of stock
Chris Pruitt Textured 3/8 Inch Bracelet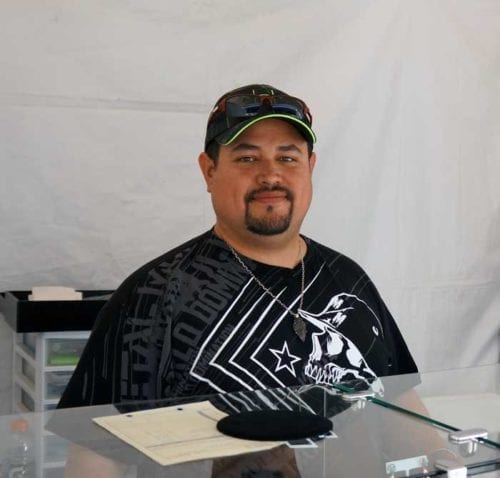 The youngest of four children born to Daniel Pruitt and Geraldine Yahnozha, Chris was raised in Laguna Pueblo, New Mexico and continues to live in his boyhood village of Paguate. He began his work as a silversmith in 2006 when his "love for rocks, and working with metal was transformed into beautiful and unique pieces of jewelry." He was mentored by his older brother and jeweler Pat Pruitt and by family friend Charlie Bird. Chris' jewelry represents a contemporary style of silversmithing with a traditional touch. His techniques include but not limited to: fabricating, brazing, texturing, polishing and cutting and inlay of precious and semi-precious stones and wood. Along with his Silversmith title, Chris holds the title of Personal Chef backed by his Le Cordon Bleu training.
Awards
2014 Santa Fe Indian Market First Place "14k Diamond Spinning Earrings with Lone Mtn Turquoise.
2014 Santa Fe Indian Market Honorable Mention "18k Bisbee & Coral Bracelet"
2012 Santa Fe Indian Market First Place "#8 Bolo"
2012 Eiteljorg Museum Indian Fair & Market, First Place Inlay " Love and Diamonds" Bracelet.
2012 Eiteljorg Museum Indian Fair & Market, Second Place Inlay "#8 Bolo"
2012 Heard Museum Guild Indian Fair & Market, 1st place Division A: " #8 Bolo "
2011 Santa Fe Indian Market, Best of Classification I: Jewelry. "Buckle Inlay with Lone Mtn. Turquoise, Coral & Diamonds"
2011 Eiteljorg Museum Indian Market and Festival, Second Place, "Inlay Earrings"
2011 Heard Museum Guild Indian Fair & Market, 2nd place Division A: " Bolo  Tie"
2010 Heard Museum Guild Indian Fair & Market, 1st place (Shared with my brother Pat) Division A: "Bolo Tie

2009 Santa Fe Indian Market, Honorable Mention: Seedpot

Loupen Fellowship
| | |
| --- | --- |
| Weight | 1 lbs |
| Dimensions | 8 × 8 × 4 in |