Sterling Silver Kingman Turquoise Four Sacred Plants Navajo Necklace Artist Amelia Joe-Chandler
$425.00
Sterling Silver Kingman Turquoise Four Sacred Plants Navajo Necklace Artist Amelia Joe-Chandler
Amelia Joe-Chandler combines traditional cultural elements with a contemporary sense of design. This sterling silver necklace is set with a gorgeous stabilized Kingman turquoise cabochon surrounded by feathers, spheres, and vine-like shapes.
This pendant has a higher gloss than most of the artist's work, but still has her recognizable style. All of the silver is glossy; any dark looking areas on the pendant are shadows. The background silver has a pebbly surface, difficult to see in the photo.
On the reverse side are inlaid sandstone shapes representing the four sacred plants in the Navajo tradition: corn (top), squash (bottom), tobacco (left), and beans (right). Specifically, the artist is "honoring my father's use of symmetry and feathers".
2 inches diameter; 2 1/2 inches high including bail; 18 inch sterling silver chain.
Amelia Joe-Chandler does not use chemical polishes on her metal work. As a result, her work has a matte finish with a hand-made look. Her hammered bezels are an uncommon touch; they hold cabochons in place more securely than the more typical burnished bezel.
Out of stock
Sterling Silver Kingman Turquoise Four Sacred Plants Navajo Necklace Artist Amelia Joe-Chandler
Amelia Joe-Chandler (Navajo)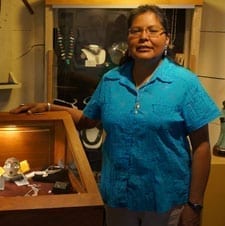 See work by Amelia Joe-Chandler (Navajo) here.
Amelia Joe-Chandler is Diné (Navajo) and is of the Bitterwater (todich' iinnii) Clan, born for the Mud (hast lish nii) Clan.
Awards
2013: 2nd Place, Sculpture, Santa Fe Indian Market
2012: Best of Classification, Sculpture, Santa Fe Indian Market
2006-2007: Artist of the Year, Indian Arts and Crafts Association (IACA)
2006: 2nd Place award for a marriage of metals necklace with earrings.
2005: Honorable Mention at the Heard Museum Indian Fair and Market for a silver Mud Hogan Teapot.
She has won many other awards.
Artist Statement
My traditional Navajo background surfaces in all aspects of my jewelry design. A complete shift from traditional Navajo silversmith design to modern design will never happen for me. The Navajo culture is a powerful part of my life and I want parts of it to always surface in my designs. I have managed to combine my traditional ways with contemporary jewelry techniques.The Diné (Navajo) Philosophy of Life encompasses air, fire, water, and earth. The four sacred directions, colors, plants, and mountains are an integral part of my designs. These elements of nature – life giving sources – will not be shown together in one whole piece. To ""Walk in Beauty"" (Hozho'), as I have learned, is not easy when one walks in two worlds.
Education
Indiana University-1997 Master of Science,Art Education with an emphasis in Metalsmith & Jewelry Design
New Mexico State University-1987 Bachelor of Science Art Education
Professional Experience
1997 to Present: Silversmith ~ Joe-Chandler Jewelry
1987 -2001: Art Teacher ~ Pre-school thru College
1975-1989: Sandpainter ~ Self-employed
Professional Memberships
Society of North American Goldsmiths (SNAG)
Indian Arts and Crafts Association (IACA)American Craft Council (ACC)
Exhibitions
Dancing Bear Gallery Solo Show, Dirt & Art Expo, EyeCon Eyewear Exhibition, IAIA Contemporary Native American Art Show, MetalWorks: Containers of Form, Pinon Arts and Humanities Art Show, Playful Intent, Shot Tower Gallery: Honoring Native American Women and Women Artists, Home & Away Gallery Solo Shows, 2005 and 2006. Shows Art in the Park, Aspen Art Show, Durango Main Avenue Arts Festival, Eitlejorg Museum Indian Market, Heard Museum Indian Market, IACA Wholesale Show, Kansas City Indian Market & Southwest Showcase, Mid America Native American/Southwest Art Show, Moab Arts Festival, Museum of Northern Arizona Navajo Marketplace, Native American Artist Invitational, Native Harvest Art Festival, Prescott Indian Market, Red Earth, Santa Fe Indian Market, Texas Indian Market & Southwest Showcase
Artist in Residence
Career Preparatory School, Cortez Community School of the Arts, FCS Bioregional Outdoor Education Project, High Desert Summer School, Eagle Rock School.
| | |
| --- | --- |
| Weight | 1 lbs |
| Dimensions | 10 × 8 × 4 in |