July 12 and 13: Decontie & Brown Trunk Show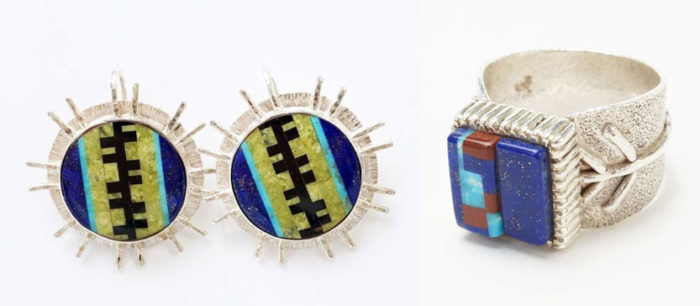 Time is almost here for the special show and sale of jewelry by the husband and wife team of Decontie & Brown. Traveling to us all the way from Bangor, Maine, this dynamic design duo offer jewelry with a contemporary look that offers, at the same time, homage to traditional Penobscot designs.
Come to the trunk show at the gallery on Friday and Saturday July 12 and 13 from 11 AM to 5 PM for a chance to select an item for yourself or for a loved one.
See a few more examples of their work here…
---
July 11 to 14: Wabanaki Haute Couture at the Brick Store Museum (Main Street, Kennebunk)
In addition to the exhibit of jewelry at Home & Away, you will have an opportunity to see haute couture by Decontie & Brown, to be unveiled at the Brick Store Museum's President's Lobster Bake on Thursday, July 11 at 6 PM. The exhibit will remain at the museum through the weekend.