Priscilla Nieto and Harvey Abeyta, Santo Domingo Pueblo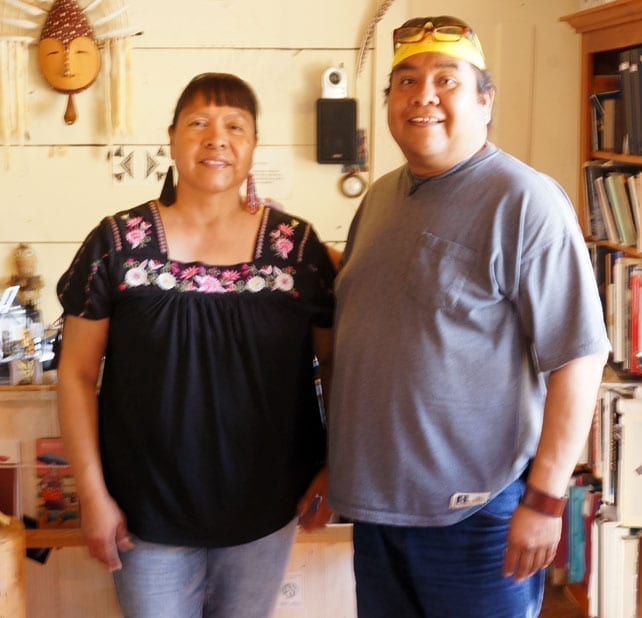 Click/tap here to see work by the Abeyta/Nieto family
Priscilla Nieto and Harvey Abeyta grew up and live in the community of Santo Domingo. Both of them create beaded necklaces and other jewelry from hand-cut stones and shell. Their five children also help in the family business, making for a very hard-working and creative family.
Priscilla learned at her parents' side, and she remembers the techniques that were used before power tools and other tools were available, including hand sanding of beads on sandstone and using hand powered drills. Steeped in this tradition, the family makes traditional necklaces using materials that were not available to the community in the past, including such uncommon stones as green Russian agate.
In addition to the use of high grade materials and impeccable workmanship, the family has developed a favorite material for stringing their beads; they use of carpet threading, which is extremely durable as well as comfortable to wear. Many of their necklaces are untied, leaving the customer the option of creating their own length. The carpet threading, which they braid, makes strong knots that do not unravel while being worn.
While the family's work includes contemporary touches and silver work not necessarily associated with traditional Santo Domingo art, it is steeped in the traditions of Santo Domingo Pueblo. Priscilla writes, "I just want to pass on what I've learned from my parents and share it with others. What really matters is how you learned, how you pass it on, and the look in someone's eye. It feels good. It has good energy."