Traditional and contemporary Penobscot baskets from Maine.
Born on the Penobscot Reservation in Maine,Pam Cunningham is a Native American ash basket maker and community leader belonging to the Turtle clan. Her Penobscot baskets helped to revitalize Maine Native American basket making during the 90's, and public demand for her beautiful artwork has only trended upwards ever since.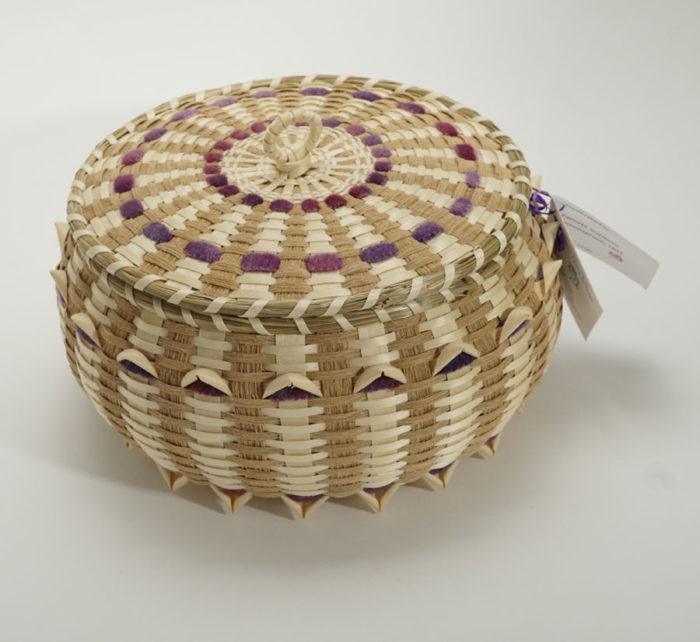 Penobscot baskets by Pam Cunningham are made of brown ash and noted for their impeccable execution. Some pieces strictly adhere to Penobscot traditions while others develop into a more contemporary design. Honor, Friendship, Courage, Sweetheart and Prayer baskets are just five of her original Penobscot baskets for sale.
Career Beginnings
Though her mother, Jean ssipsis ("Little Bird") Thompson, was skilled in the arts of basketry, Pam Cunningham did not consider making Penobscot baskets until she worked at the Penobscot Nation home care, where she learned basics of the trade and its cultural importance from elders. She is mostly self-taught but has gone on to teach others what she has learned in hopes of keeping Maine basketry alive for generations to come.
Process of Pam Cunningham
Pam Cunningham splits black ash splints, then scrapes and gauges them into weaving materials to make authentic Penobscot baskets.
Sweetgrass, another major component of most Native American baskets, is handpicked along the coast of Maine, where it is soaked and woven three strands at a time into a sturdy braid. When she braids sweetgrass, Pam's hands move so fast, it all looks like a blur, from which emerges a beautiful braid. Creatively speaking, it is not uncommon for Native American baskets to come to her in a dream (as with Honor baskets).
Home & Away presents Pam Cunningham baskets for sale.