Myron Panteah, Zuni Metalsmith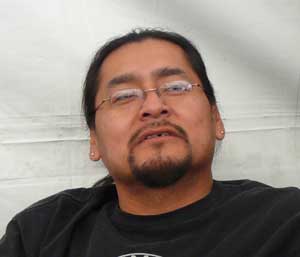 See Myron Panteah's work here.
Myron Panteah, born in 1966, has been working with silver since he was a child. He was taught by his father and grandfather, but his designs have transcended traditional Zuni work and entered a new realm. He has been honored with numerous awards and his pieces have ben chosen for exhibition by prestigious museums, including the Heard Museum in Phoenix, Arizona and the Museum of Arts & Design in New York City.
Panteah's work combines traditional Native American designs with a clean, contemporary look that sets it apart from the work of all other Native American artists. Petroglyph-inspired designs, fan shapes, dragonflies, and bear claws are only some of the motifs Panteah favors. He often highlights silver designs with gold, which adds an extra spark. When he uses overlay designs, the oxidized silver of the bottom layer creates a bold contrast with the highly polished, often textured, top layer.
Myron Panteah also works with semi-precious stones. Jasper stones of many types and Montana agate are two of his favorites, though he works with many other kinds of stones as well. Panteah's designs work beautifully with the stones no mater the color or shape of the stone. He is a master metalsmith who knows how to integrate them all: silver, gold, stones, and cutout shapes.