Kevin Pourier and Valerie Morgan, Lakota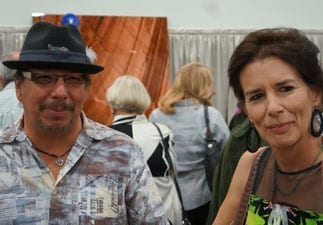 Kevin and Valerie Pourier are accomplished artists whose buffalo horn work is steeped in Plains Indian tradition that is blended with a contemporary art sensibility. Mr. Pourier has won numerous awards. His work has been showcased in many exhibits and publications, and is held in prestigious museums and private collections.
"All jewelry is made from real bison horn. The inlay material is all natural and so is the highly polished finish. The buffalo horn is first made as smooth as possible with a rough sand paper and then gradually sanded smoother to a mat finish. It is then that I draw a design with a pencil and the carve the design or carve around the design depending on the image I want to produce.
The channels I carve are then inlaid with crushed stones and shells and mixed with a resin. The design is then sanded again until flush with the horn and then polished for a short time on a buffing wheel until it has a very high gloss finish.
The colors come from many different earth colors. White is made from Mother of Pearl. Light yellow is made from a sandstone. Bright yellow is Gold Mother of Pearl. Red is from Coral. Blue is made from Lapis. Green comes from Malachite. Dark Red is made from a sandstone that comes from the Great Race Track that runs around the Black Hills of South Dakota.
It is said that the buffalo horn cap is where the buffalo spirit lives and that spirit has great power. People who are drawn to our buffalo horn pieces have said that they can feel that power. It is not a like any other jewelry you have ever seen before. It has a natural beauty that all things from nature possess. Even customers that have come to us dripping with gold and silver jewelry have confessed that there is a special feeling that they have gotten from wearing this very unique material.
Buffalo Horn Spoons have been made and used since Plains Peoples and Buffalo have existed together.
The spoons are made by cutting a whole buffalo horn down the middle. Our research project with the Smithsonian's National Museum of the American Indian in 2005 let us to find many different types of utensils that we didn't know existed since we have no museums or documentation of those things here on the Pine Ridge Reservation.
We found buffalo horn cups, horn spoons and small "mini spoons" for individual use. The spoons we saw were each adorned with porcupine quill work and in later dates, beads. We also discovered cups that we made from the whole horn cap. On a very few cups and spoons we found some to have been carved and also inlaid with different earth colors. Red earth colors mostly but, also yellow and only one that was inlaid with a dark blue color. We weren't too surprised to learn that that particular cup belonged to one of our most courageous leaders, Crazy Horse."
Kevin and Valerie Pourier
Kevin Pourier has won numerous awards at national Native American art shows, including the Innovation Award at the Santa Fe Indian Market.