Born in 1978, Jeremy Frey moved at the age of 6 to Indian Township Reservation in Washington County, Maine. Baskets made here are Passamaquoddy, of which Frey is a 7th generation Native American.
With the knowledge passed onto him on from his Uncle Moose, Frey expertly selects, harvests, and splits the ash wood and sweetgrass needed for his baskets by hand. Frey's natural talent, guided by a rare ability to reinvent art within the bounds of tradition, have taken his works to the Smithsonian.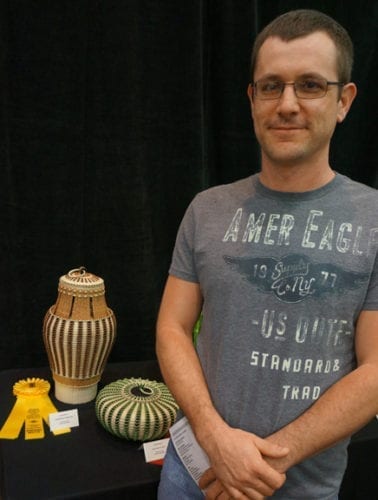 The baskets made in Maine by Jeremy Frey are held in many private as well as public collections, including the National Museum of the American Indian. Frey has won prestigious awards at the:
Santa Fe Indian Market
Heard Museum Indian Fair and Market
Although Jeremy Frey did not begin to weave baskets until his 20s, his artistic sensibilities and drive more than compensated for his initial lack of experience. He began with the most difficult Native American basket his mother knew how to make – a point basket – and has never stopped since.
His mother inspired him to begin weaving at a workshop sponsored by the Maine Indian Basketmakers Association, where he immediately excelled.
The Creative Process of Native American Artist Jeremy Frey
Like many natural born artists, Jeremy Frey often has visions for a design come to him in his sleep. These yet-to-be-conceived mental masterpieces always retain fine traditional Native American basket bindings, shapes and designs, but with small touches that are simply . . . Jeremy Frey.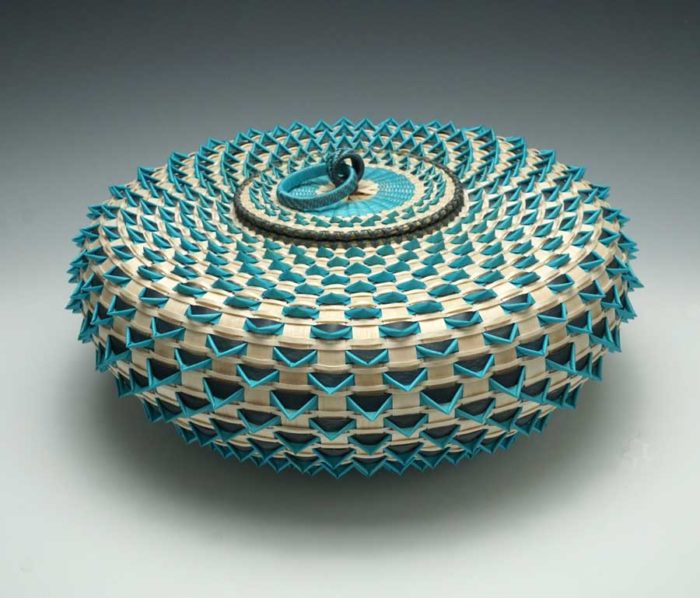 As much as he has changed the art of basketmaking, it has also changed him as well. His talent as a Native American artist is what transformed Frey from a late bloomer into social acceptance, allowing him to cultivate a strong reservation-based identity and fully connect with his peers and ancestors.
Present Day Life
Today, Jeremy Frey continues to weave baskets in Maine and enjoys teaching his family; Jeremy and his wife Ganessa often brainstorm and discuss the art of making ash wood baskets with sweetgrass. Even when teaching others, Frey continues to learn new aspects about himself and his craft through the communication of shared ideas and values. Like the master Passamaquoddy basket makers before him, he simply never stops learning.
Jeremy Frey Baskets for Sale at Home & Away Gallery
Home & Away Gallery in Kennebunkport, Maine proudly offers a well-rounded collection of Jeremy Frey baskets for sale and on display. Own a piece of modern history created by legendary trendsetter, basket maker, and Native American artist, Jeremy Frey.
David Shultz, Home & Away Gallery owner, has interviewed and written about the work of Jeremy Frey in his book, Baskets of Time, and would be glad to share his extensive knowledge. If you have any questions about baskets made in Maine by Jeremy Frey, give David a call at (207) 423-8473.