Geo Soctomah Neptune, grandson of Molly Neptune Parker, is an especially popular and talented Native American basket weaver of the Passamaquoddy tribe in Maine. Baskets by Geo Neptune are said to be imbued with a piece of the artist's very own spirit – and as a Two-Spirit, Neptune's is very special indeed.
Early Life
Geo Neptune was destined to excel at Wabanaki basket-making from a young age. As a toddler, Neptune was already tying ash splints knots at the feet of Molly Neptune Parker. Neptune further learned the traditional ways of Wabanaki basket-making from observing other family friends.
At the age of five, Geo Neptune excelled at Maine basket-making classes meant for children twice as old. The young one's early display of talent did not come as a surprise to the others, for aside from having an extraordinarily gifted grandmother, Geo Soctomah Neptune is also a respected Two-Spirit.
The Two-Spirit Path
A large part of Native American culture holds tradition sacred while also embracing change. Two-Spirit is a universal term to describe those who belong to the tribe but do not ascribe to traditional gender roles. By ignoring gender-based societal roles, a Two-Spirit, in true Native American fashion, preserves core value tribal traditions while living in a new era.
For example, Neptune was making fancy baskets when tradition would have called for utility baskets to be made. As a transgendered Native American basket maker, Geo Neptune honors and upholds the Passamaquoddy tradition of basket weaving, but by making fancy baskets, deviates and redefines cultural norms.
The Two-Spirit, perhaps more than anyone, must formulate their own unique identity without compromise while, at the same time, satisfying the need for tribal validation that all Native Americans yearn for. Perhaps this desire is what allowed Neptune to excel to such great artistic heights.
The Finer Details of Geo Neptune's Baskets
Neptune has extensively studied the traditional art of Wabanaki basket-making, partially to gain peer acceptance, but mostly to honor and pass forward the heritage. Traditional Wabanaki basket-making elements now serve as a launchpad for Neptune's brilliant new innovations such as branches and birds.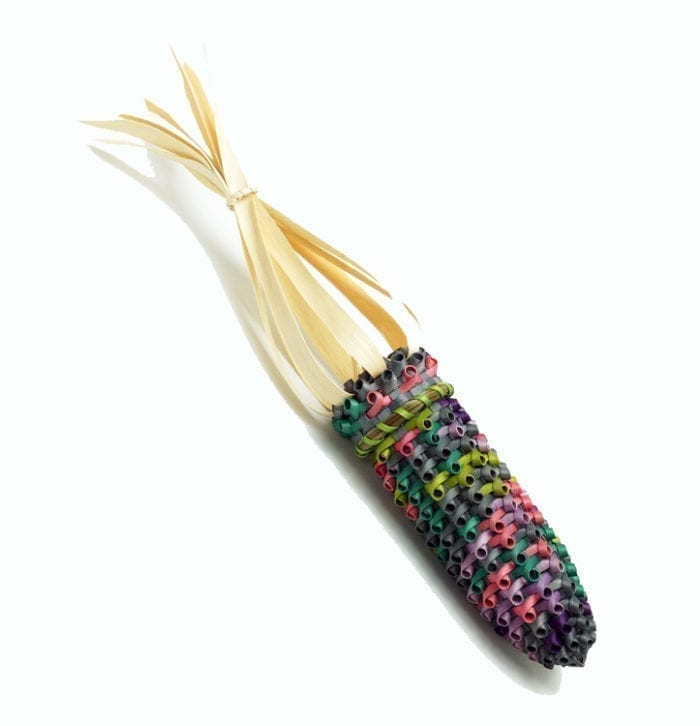 Dazzling corn basket by Geo Neptune.
Wabanaki baskets by Geo Neptune, first and foremost, have striking levels of detail meant to invoke deeper emotions from within. Neptune's past technical theater experience designing extravagant costumes and stage sets are, in part, what allows the artist to control exactly where the eye is drawn.
As much as Molly Neptune Parker exposed her grandchild to the world of basket weaving, she did not influence her grandchild's style. She often questioned Geo Neptune's artistic choices as a child, but as a Two-Spirit, Neptune could not help but continue down his path to success.
Geo Neptune Baskets for Sale
Home & Away Gallery in Maine has unforgettable Geo Neptune art for sale, including jewelry. Please call  Home & Away Gallery at (207) 423-8473 to see if we have Geo Neptune baskets for sale (or if you have any questions).