Elizabeth James-Perry (Wampanoag)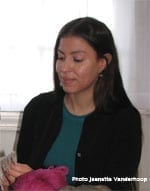 See Elizabeth James-Perry's work here.
Elizabeth James-Perry is an enrolled member of the Wampanoag Tribe of Gay Head (Aquinnah}; her community is located by the richly colored clay cliffs of Marthas Vineyard. She is a traditional artist taught by family members Helen Attaquin and Nanepashemut, and through years of collections research. Her work focuses on early contact period Northeastern Woodlands Algonquian material culture including natural dyeing, weaving and wampum.
James-Perry has represented Wampanoag traditions by lecturing, working in independent film, and exhibit design in Massachusetts and Eastern Rhode Island, including Salt Pond Visitor Center in Eastham, MA; the Wampanoag Heritage Classroom at Roger Williams University in Bristol, RI; and Sachuest Wildlife Preserve in Middletown, RI. Her tightly twined woven bag Thunderbirds Over Red Earth won first place in the Textile Division at the annual Heard Museum Guild Art Market in 2010. Her education includes formal training at the Rhode Island School of Design and she holds a degree in Marine Biology from the University of Massachusetts, Dartmouth with coursework at Shoals Marine Laboratory, Cornell's satellite campus.
Following several years in fisheries research and natural science illustration at Bigelow Lab in Maine and through the Ocean Technology Foundation in Southern New England, she chose to concentrate on cultural work and was employed by the Wampanoag Indigenous Program as Women's Technical Manager at Plimoth Plantation Museum from 2005-2008, her tribe Historic Preservation Office from 2008 onwards and in the development of the Wikun Living History Village on the Shinnecock Reservation in Long Island, funded through an ANA grant. She has been the recipient of several New England Foundation for the Arts Grant awards that have allowed her to focus on rare New England Native artforms as well as teach an apprentice from her sister community of Mashpee on Cape Cod.
James-Perry's fascination with her Nations ancient wampum inspired the Star medallion and Friendship collars she created for a 2006 independent documentary film about King Philips War that she co-produced. The artist continues to explore the rich purple shell, sculpturing patterned purple whale and fish effigies, beads and working with her brother Jonathan Perry to inlay wampum in his handmade burl wood bowls. Her work was featured in the Nov/Dec issue of Native Peoples magazine in 2011.
As a member of a Nation that have long lived on, and harvested the sea, Elizabeth's is a perspective that combines science, history, genealogy, material culture and traditional beliefs in her ways of relating to the North Atlantic. She grew up watching her mother, illustrator and scrimshander Patricia James and recounted her families' whaling history for an upcoming volume about Northeast Native whaling families Living with Whales by Nancy Shoemaker. She is a recent recipient of the Paul Cuffe Memorial Fellowship for research about Wampanoag whalemen aboard the Charles W Morgan. Elizabeth attends annual United Southern and Eastern Tribal conferences as a member of the Culture and Heritage committee.