Earl Plummer (Navajo) was born in New Mexico in 1975. His extraordinary lapidary skills, combined with a family silversmithing background, have made him one of the most well-known contemporary Native American jewelry makers of all time.
Take a virtual tour of Earl Plummer's jewelry.
Earl Plummer is mostly self-taught, aside from basic silversmithing techniques he learned from family as a teenager. Collectors will note that his style has become increasingly complex since 2007 when he pushed himself to create advanced Native American jewelry such as squash blossom necklaces.
Navajo Jewelry by Earl Plummer
From Native American rings and earrings, to bracelets and necklaces, Earl Plummer's jewelry has a clean and bright contemporary look. His greatest strength is his ability to combine materials, whether homogenously or heterogeneously, in very attractive color and shape combinations, often based on nature. Silver Navajo designs are kept purposefully simple in sharp juxtaposition of strikingly grandiose turquoise textures.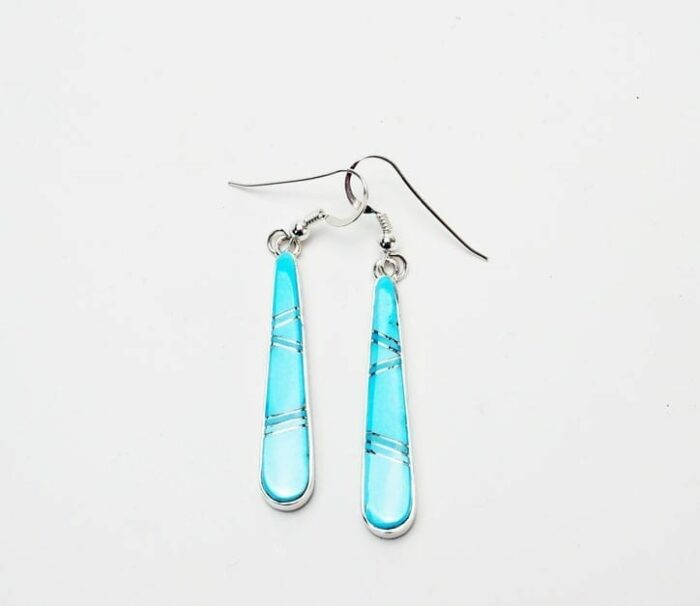 Navajo turquoise inlaid earrings by Earl Plummer.
Jewelry made by Earl Plummer has a Navajo inlay work with a beautiful sense of design. He combines natural stones and shells in ways that complement each other's colors and matrices to great effect. Aside from turquoise, silver and gold – all common components of Navajo jewelry – Plummer is also known to use coral, lapis, black jade, tiger's eye, and more.
He has been known to work with a wide variety of natural turquoise, including Kingman, Sleeping Beauty, and Morenci. His concepts are too unique for other artist to emulate.
Award-Winning Native American Jewelry
Among Earl Plummer's awards for his Navajo jewelry are:
2007: 2nd Place ribbon, Santa Fe Indian Market
2008: 2nd Place ribbon, Heard Musem Guild Indian Market and Fair
2013: "Best of Classification, Jewelry", Santa Fe Indian Market
Modern Day Life
Earl Plummer lives and works in New Mexico with his wife and four children. He generously gives time to his elders, helping with ranch duties (including sheep-shearing) as well as any other help he can provide. Making absolutely stunning Native American jewelry remains his main talent and passion.
Be sure to keep an eye out for one of his teenaged sons, Lance Plummer. This up-and-coming young Navajo artist has already demonstrated a keen ability to create complex designs full of youthful passion and brazen textural experimentation. His recent tufa cast jewelry and coral jewelry pieces are two examples of how Lance Plummer is coming into his own style while still learning from his father.
We at Home & Away Gallery have always marveled at Earl Plummer's extensive career, at how he copies no one and creates his own path forward. We are so excited to watch Lance Plummer's immense talents spill over into a new generation of terrific Navajo jewelry.
With father and son inspiring each other to new artistic heights, and with Earl Plummer developing new techniques like the Wave Series, there's no telling what the duo will create next. Whatever it is, you can be sure it will be jaw-dropping!