Decontie & Brown (Donna and Jason Brown) in Penobscot regalia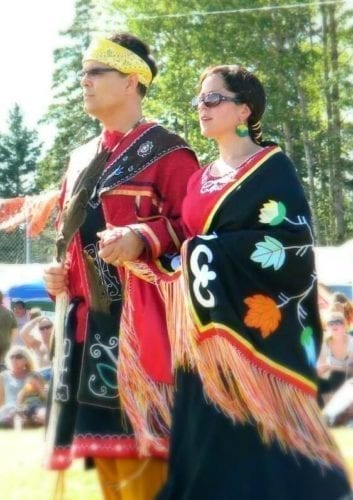 See Decontie & Brown's work here.
Decontie & Brown is a jewelry studio that caters to the collector who appreciates the luxurious experience of handcrafted jewelry. Each of our unique items is created from raw materials, one at a time, in our Bangor, Maine jewelry studio. We are honored to present beautiful trend setting designs rooted in the time honored traditions of handcrafted elegance.
Jason and Donna Brown, who  have been creating jewelry for the past 20 years, are the driving force behind Decontie & Brown. This husband and wife team, who first met at Donna's 5th birthday party, draws inspiration from their Penobscot tribal heritage and their experience in the luxury jewelry industry to create beautiful trend setting designs with a Native American infusion.
Decontie & Brown's jewelry is handcrafted from various metals and semi-precious gemstones and they use various metalsmithing techniques to shape and create unique pieces. They also cut and polish a variety of semi-precious gems and shells such as turquoise, quohog (wampum), deer antler and quartz crystal that they incorporate into their creations.
"Our work is motivated by the desire to bring to life the designs created by our imagination. We find inspiration in nature, and in the intricate beauty of our Wabanaki culture. Historically, Wabanaki people hired local metalsmiths/jewelers to create adornments for them. We feel that as contemporary Wabanaki jewelers, we are breaking new ground and adding to the history and story of our people." – Decontie & Brown
Jason Brown has an associates degree in fine arts from the Institute of American Indian Arts (IAIA) in Santa Fe, New Mexico. Donna Brown has a masters in social work (MSW). Both are members of the Penobscot Nation, one of the four Wabanaki tribes in Maine.