Traditional and original Native American Maliseet baskets and artwork.
Aron Griffith is one of the few remaining Native American artists of Maliseet heritage who makes traditional Maliseet baskets and other artwork, including intricately decorated dolls, all crafted with birch bark and ash wood. He creates Maliseet baskets and other artwork to raise cultural awareness for his tribe, the Houlton Band, who are the only Maliseet in Maine.
Aron Griffith Maliseet Baskets
When it comes to his Native American baskets, Aron Griffith estimates it takes roughly twenty to thirty hours to make a single basket. This includes time spent foraging for materials in Maine, climbing trees to remove the bark without harming the tree, pounding, splinting and splitting the ash wood, and etching art into the birch bark, as well as braiding sweetgrass and lashing the sinew to add further style and texture.
Aron Griffith Maliseet Birch Bark Dolls
Aron Griffith also excels at designing Native American birch bark dolls, though the word "dolls' is probably not how he ideally would describe them. To Aron Griffith and the many Maliseet before him, these birch pieces represent a deeper communion with nature and its many gifts.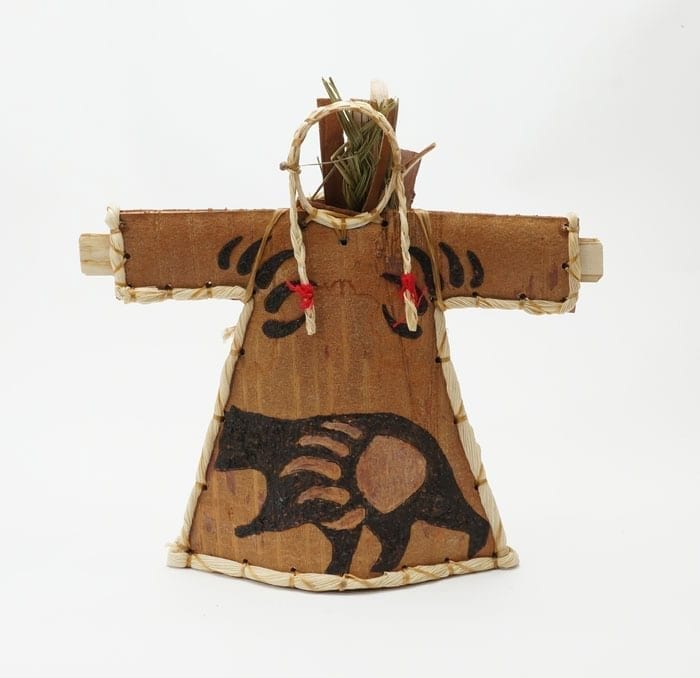 Birch bark bear doll by Aron Griffith.
Following in the customs of his tribe, it is not uncommon for Aron Griffith to imbue these wooden figures with animal attributes to further strengthen their mystical properties of strength, leadership, protection, and good fortune.
About Aron Griffith
Aron Griffith did not begin working with birch until the age of 32, at which point he felt an ancient ancestral connection and knew he had found his calling. Aron Griffith's baskets have since been showcased at the National Museum of the American Indian in Washington, DC. He is self-taught.
More About the Maliseet
The Maliseet tribe extends from Maine to New Brunswick, Canada. The name "Maliseet" was given to them by their closest neighboring tribe, and it means "talks imperfectly" in Mi'kmaq. The Maliseet refer to themselves as Wolastoqiyik, which in turn is a reference to the Aroostook river in their homeland.
Once thought to have some of the most beautiful artwork out of all tribes, the legendary basketry traditions of the Maliseet continue with artists such as Aron Griffith.