Althea Cajero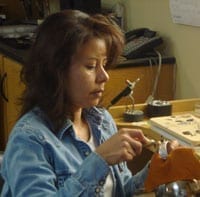 See Althea Cajero's work here.
Althea Cajero designs and makes elegant jewelry which can be worn as every day pieces as well as for special occasions. In 2013, Althea Cajero and her husband Joe Cajero were named Living Treasures by the Museum of Indian Arts and Culture, a great honor for any artist, but especially poignant for a husband and wife.
Althea Tortalita-Cajero is from the Pueblos of Santo Domingo and Acoma, in New Mexico.  She was raised in Santo Domingo Pueblo and graduated from St. Catherine's High School in Santa Fe, NM.  Her mother, Dorothy Tortalita, a silversmith, and her father Tony Tortalita, a lapidary jeweler, encouraged her and her brothers to learn the art saying, "You never know when you'll need this to fall back on".
Cajero worked for the Indian Health Service for 19 years in administrative capacities. She married Joe Cajero, Jr., bronze and clay sculptor from Jemez Pueblo, and spending time with him "opened her soul to her own creativity".  In 2004, she started taking jewelry classes at the Poeh Arts Cultural Center in Pojoaque Pueblo, New Mexico, which she attended until 2006.
At the Cultural Center, she studied with Navajo jeweler Fritz Casuse. She was so intrigued by the beautiful texture of cuttlefish bone castings that she now creates a majority of her jewelry designs using the cuttlefish bone castings with hand fabrication.  She uses sterling silver, 14K gold, 18K gold, with which she integrates natural materials, including turquoise, coral, pearls, jaspers, and agates.
In 2005, with the encouragement of her husband, Cajero resigned from the Indian Health Service became a full-time artist.  She continues to improve her skills as a jeweler through continued education, learning from and listening to other artists, and listening to her intuition.
Cajero has been juried into the annual Heard Museum Guild Indian Fair and Market in Phoenix and the annual Santa Fe Indian Market in August.