Susie Silook, Yup'ik/Inupiaq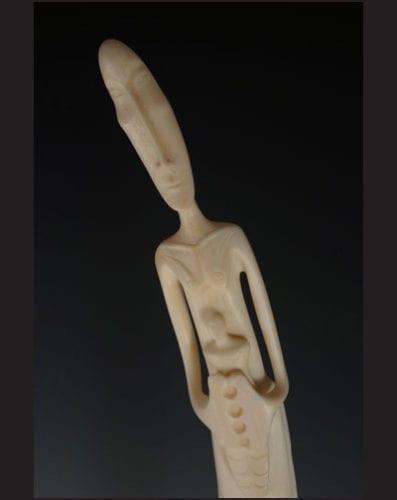 Susie Silook is a Siberian Yup'ik/Inupiaq artist from the village of Gambell on St. Lawrence Island, Alaska. She is one of the first female ivory carvers to succeed in a field dominated over many generations by men. Silook's work is often inspired by ancient ceremonial dolls that have been excavated across Alaska.
The creation of walrus tusk ivory carvings dates back several thousand years; most ancient carvings were created for either utilitarian or ceremonial purposes. Constrained by the circumference of a walrus tusk, these dolls were usually carved with no arms. While the artists may have added arms of wood or skin, these perishable materials have not survived, while ivory has endured. In honor of these ancient carvings, Silook often makes armless figures adorned with curvilinear surface etchings reminiscent of the ancient ones.
Silook has become acquainted with many cultures through her life in Gambell and Anchorage, as well as her service in the military. She brings that broad perspective to life in her art, her poetry and her prose. This external perspective, combined with the inspiration of her native traditions, makes for a very powerful and spritual legacy of art.
Silook's work is included in many private and corporate collections. Museums holding her work in their permanent collections include: de Young Museum, San Francisco, CA; Anchorage Museum of Art & History, Anchorage, AK; Museum of the North, University of Alaska, Fairbanks; and the Eiteljorg Museum of American Indians and Western Art, Indianapolis, Indiana. Her work was included in Art without Reservation: Changing Hands 2, a touring exhibit sponsored by the Museum of Arts & Design. She was selected as one of 100 artists nationwide to receive a grant from the US Artists foundation in 2008. In 2001, she was awarded a fellowship by the Eiteljorg Museum.