Lawrence Ahvakana, Inupiaq artist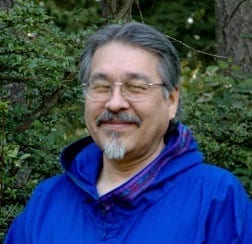 See Lawrence Ahvakana's work here.
"Tradition in Sculpture & Print"
Larry states, "I was born in Fairbanks, Alaska but raised in Barrow and Anchorage, Alaska. My first introduction to the Arts was watching my mother, who is a very competent skin seamstress. All my life, I was surrounded by my culture and my people, the Inupiaq of northern Alaska. The dances and songs of the Inupiaq tradition is the oral history of my people. It is the emotional interpretation of our respect and involvement within the environment of the North Slope of Alaska."
" My grandfather, Ahvakan, was a song composer, dancer, and creator of dances and songs. This is also how we got our last name of Ahvakana. He was also a great whaler, which meant he was a very important man, as the whaling captains supplied the villages with food and leadership. My real names are Ulaaq the name of my Great Uncle from Beachy Point and Suweetcharuq, my Great Grandmother from Point Hope's name. It is our belief that when we receive our names we receive something of the spirit of those ancestors."
" Through my work, I can express/create my ideas of tradition, those feelings of being part of a society that's thousands of years old, with contemporary artist influences like Alan Houser, Fritz Scholler, Charles Loloma, Paul Klee, Kandinsky and others. I continually gain insight, direction, and psychic or emotional strength through the stories of how the Inupiat defined their total subsistence lifestyle with the shamanism, ceremony, and the natural cycles of Arctic living."
" I follow my people's tradition of carving. My work involves the use of many media and materials. Within my designs, I incorporate the sense of my cultural design, but the interpretation is very personal and the conceptual format, I hope, will give the viewer an idea of the Inupiaq tradition."
Lawrence Ahvakana has been working as an artist for over 30 years. He is a graduate of the Rhode Island School of Design in Providence, RI; the Institute of American Indian Arts in Santa Fe, New Mexico, and Cooper Union School of Art in New York, NY.
He was an instructor at the Institute of American Indian Art, in sculpture and glass; served as the head of the Sculpture Studio at the Visual Arts Center in Anchorage, Alaska and had a glass studio and taught glass blowing in Barrow in 1973 –74.
Larry's works are included in a large number of major museums, numerous corporate collections, and he has received several public art commissions. His work can be seen in the Eben Hopson Middle School in Barrow, AK, Fred Ipalook Middle School in Barrow, AK, North Slope Borough Main Office in Barrow, AK, Anchorage Museum in Anchorage AK, Portland Art Museum in Portland, OR, Heard Museum in Phoenix, AZ, art galleries in Anchorage, AK and Kennebunkport, ME and in national and international private collections.
He is most famous for his Inuit or Inupiaq figures and animals. His images are sculptured from wood, alabaster, marble, glass, ivory and cast in bronze or other metals. The images with their pristine, clean-lined form and an almost reverent presence capture the spirit of the Inuit.
Written by Donna M. Huff-Ahvakana 2001
"