Southwestern Native American jewelry is a term for any Native jewelry from the American Southwest, a specific region covering the following states:
Arizona
California
Nevada
New Mexico
Oklahoma
Texas
Utah
Southwestern jewelry can be further categorized by Native American tribes; the most popular Native American jewelry comes from the following tribes:
Authentic Southwestern Hopi Jewelry
Traditional Hopi jewelry involves sterling silver with little-to-no stonework. The simplicity of materials lets the artist employ the overlay technique to its fullest, cutting away designs in a flat sheet of silver, which is then soldered to a bottom layer to create intricate designs. The bottom layer, often textured and darkened, serves as a canvas to create dazzling depictions of geographic landscapes and spiritual motifs as shown below.
Prior to knowledge of silver, Hopi jewelry was traditionally made from natural materials such as wood, teeth, bone, and occasionally turquoise. Hopi jewelry often depicts animals, crops and the spirit realm.
Authentic Navajo Jewelry
Traditional Navajo jewelry is heavier than other Native American jewelry and often emphasizes the healing powers of turquoise. The sterling silver wraps around large turquoise stones, chunky and round alike. The turquoise retains its natural shape usually, and no efforts are made to hide matrixes.
Other materials found in authentic traditional Navajo jewelry include coral, which represents female energy, a counterpoint to turquoise's male energy.
As the first tribe to learn of silversmithing, many different types of Navajo jewelry are considered authentic today. Popular types of Navajo jewelry are:
Constructed pieces: sheets of flat silver are cut and shaped, then often stamped or engraved to create a backdrop for turquoise stones.
Sandcasting – A form of silversmithing where silver is poured into a design and hand-carved.
Tufa casting – Silver is poured into tufa (volcanic stone) and hand-carved.
Silver beads (Navajo pearls) – Two flat silver discs are reshaped into domes, then joined into a single bead.
Concho belt – A silver belt decoration traditionally worn loosely on the hips over clothing layers.
Squash blossom necklace – A Naja ornament usually accompanied by silver beadwork.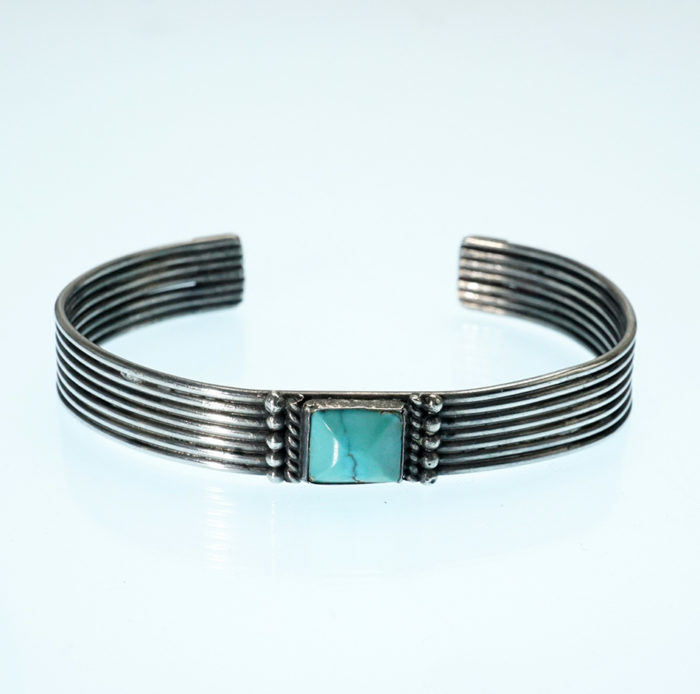 Notice how traditional Navajo silver jewelry becomes much more decorative near the gemstone.
Authentic Kewa (Santo Domingo) Jewelry
Native American artists from the Kewa Pueblo shirk the silversmithing techniques of the Spanish in favor of drilling holes in stones and shells as did their ancestors. They strive to make their jewelry as authentic as possible and are best known for heishi jewelry. Necklaces of this type are similar to family quilts in the sense that each generation contributes to a necklace strand during their lifetime.
Traditional heishi beads are smooth flat discs, though in modern times the term is interchangeable with rounded beadwork. True handmade heishi beads are becoming harder to come across due to the labor involved (up to two weeks for a single strand).
To make authentic Native American heishi beads for a necklace, the artist must:
Slice the shell or gemstone into strips.
Clip the strips into small squares.
Drill the squares.
Run the unshaped beads along a wire.
Grind and shape the beads using a stone wheel.
Polish the necklace using friction from a leather belt.

Traditional jewelry of this type uses beads no more than an eighth of an inch long and polished on a wheel down to uniform size and appearance. Not an easy feat!
Contemporary heishi jewelry takes advantage of other materials besides shell and coral such as:
Turquoise
Lapis lazuli
Jet
Pipestone
Serpentine
Note: Authentic heishi necklaces are always smooth to the touch. The smoother they are, the better quality – and therefore, the more valuable.

The inlay technique is another jewelry-making technique made famous on Kewa Pueblo. This is where cut-down gemstones and shells are adhered to a base that is likewise made of gemstone, shell, or wood to create a mosaic as shown below.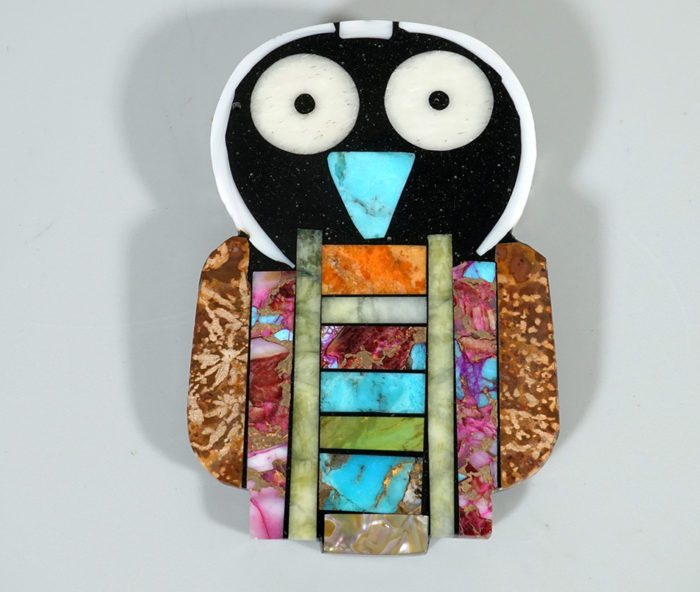 Santo Domingo artists do craft fetish necklaces, though the animals are often limited to birds varieties only. As you can imagine, thunderbird necklaces, first created in the early 20th century, have grown quite popular.
Authentic Zuni Jewelry
In complete contrast to the Hopi, jewelry of Zuni fashion concerns itself with lapidary work above all else. Zuni jewelry involves cutting the stone down for small and precise placements in intricate designs.
Ever-talented lapidarists, Zuni artists distinguish their jewelry through various techniques:
Cluster – A large central stone is surrounded by smaller gemstones.
Petit point – Small ("petite") stones that can be round, oval, rectangular or square.
Needlepoint jewelry – The thinnest stones cut down to the size of rice granules.
Stone-to-stone inlay – Stones are set directly next to each other.
Channel inlay – The stones are separated by metal materials.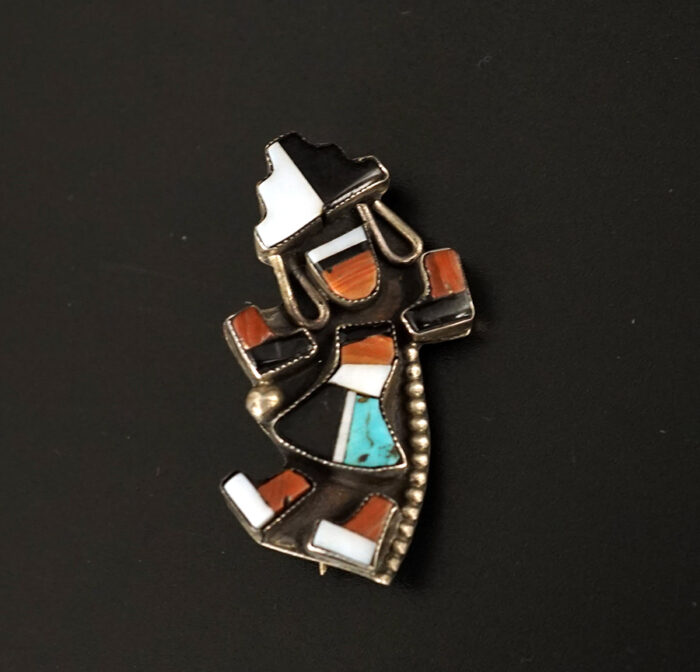 Traditional Zuni jewelry includes the following materials:
Turquoise
Red coral
Black jet
Mother of pearl
Animal fetishes are a staple among Zuni artists as well. Larger carved figures are much more prevalent, and the number of Zuni artists dealing with animal fetish necklaces unfortunately seems to be dwindling.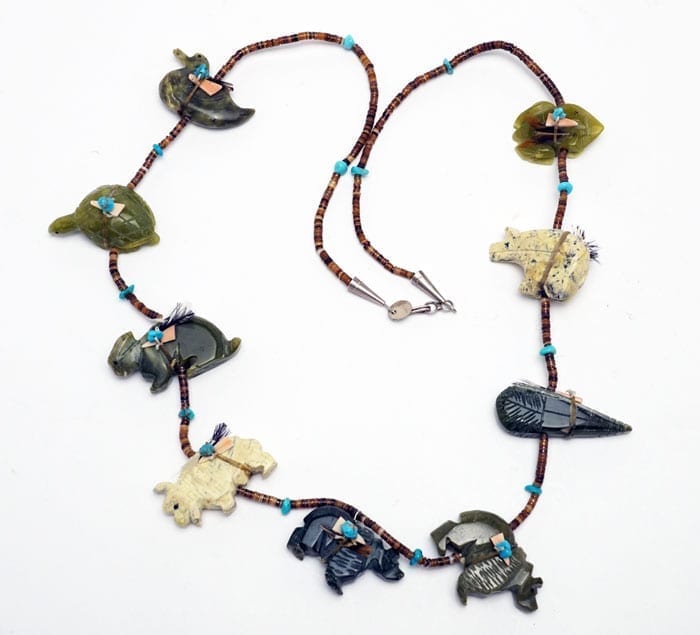 Southwestern Turquoise Jewelry
Turquoise in Southwestern Native American jewelry dates back thousands of years. The finest types of Southwestern turquoise jewelry derive from all-natural turquoise stones such as:
Bisbee – Turquoise from Arizona from a mine closed over three decades ago.

Blue with a brownish-red spiderweb matrix

Kingman Turquoise – A prehistoric turquoise mine thought to be the main supplier of most of the turquoise in Southwestern Native American jewelry.

Bright blue and green turquoise with silver and black matrixes.

Morenci – Turquoise with a swirling quartz and pyrite matrix resembling silver when polished.
Sleeping Beauty – Turquoise mined from Globe, Arizona. The mountain is shaped like a woman laying down, her arms crossed like the old fable – hence the name.

Often used in Zuni jewelry
Once introduced to silversmithing by the Spanish during the 1800s, Native American artists began making stunning silver and turquoise jewelry that is still popular today.
Southwestern Coral Jewelry
While it's true sterling silver and turquoise are the most prevalent materials used across all of the Southwestern Native American tribes, this was not always the case. Spanish travelers introduced coral from the deep sea to Native American jewelry-makers. Prior to that, spiny oyster shells and other similar materials brought by coastal tribes along traditional trade routes were used to make beads. It was not long before coral was set in silver.
Modern Changes to Southwestern Native American Jewelry
Modern Southwestern Native American jewelry is changing with each generation – and that is a good thing. Southwestern jewelry is based on the planet, and the planet is slowly changing. Therefore, Southwestern jewelry must undergo slow changes, too.
The history of Southwestern Native American jewelry is fraught with new inventions and materials from other cultures – beads from Europeans, coral and silversmithing from the Spanish, and additional materials from outsiders carefully repurposed and assimilated.
Let's not forget it was the Navajo who used railroad tracks as forges to bang out early silver jewelry, or the Zuni who used electric saws in the 1940s to cut stones into new patterns. None of these radical changes were to the detriment of Native American jewelry. Just the opposite!
Even through terrible suffering like the Great Depression comes new forms of and beautiful expressive jewelry. Change is necessary, and the ability to implement new ideas while retaining traditional elements is what keeps Southwestern Native American jewelry alive, and artists connected to ancestors.